Baked Chocolate Donuts Recipe
I am on a donut kick this week. Yesterday I wanted donuts for breakfast so I got out my Aunt Bill's recipe who was our donut maker when I was growing up. It was always a special treat when she made them. I hadn't made them in a long time and they were as good as I remembered. Today I decided to make another recipe I had in my recipe box for chocolate donuts only I decided to bake them instead of frying them. Tomorrow I am going to see how Aunt Bill's turn out baked so check back and see.
These Baked Chocolate Donuts are so light and they are topped with a fudgy chocolate frosting and sprinkles. I also did a few donuts that I dipped in caramel and then topped them with the fudge frosting and chopped peanuts. They would also be good glazed.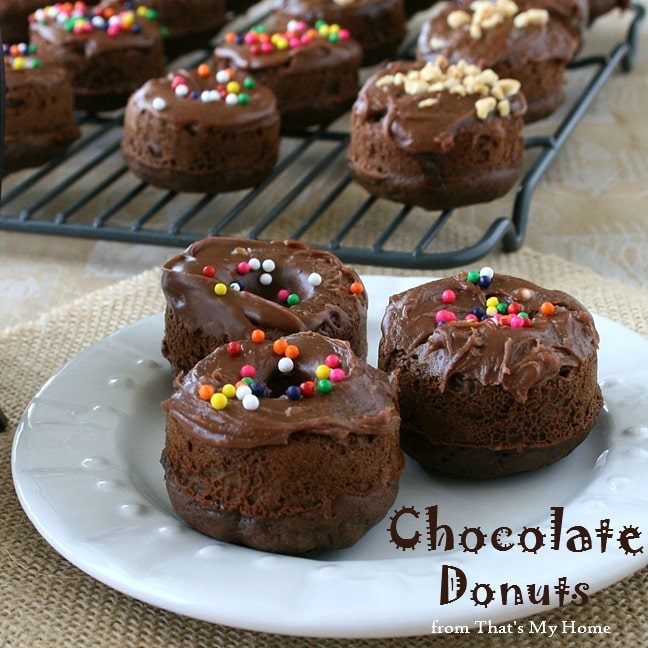 These are easy to make and don't even require a mixer. I just used one of my batter bowls and a wire whisk and they were ready in no time at all. I used my small scoop and put 2 scoops in each of the cavities of the mini donut pan. They baked in 10 minutes.
Baked Chocolate Donuts
Prep Time: 15 minutes
Cook Time: 10 minutes
Total Time: 30 minutes
Yield: 2 dozen
Ingredients
For the Doughnuts:
1 cup all-purpose flour
1/4 cup cocoa
1/2 teaspoon baking soda
1/4 teaspoon salt
1/2 cup light brown sugar, packed
1/2 cup buttermilk
1 large egg, beaten
4 tablespoons unsalted butter, melted
1 teaspoon vanilla
For the Chocolate Glaze:
1 1/4 cups powdered sugar
3 tablespoons unsweetened cocoa
3 tablespoons butter
6 tablespoons sugar
big pinch salt
3 to 4 tablespoons whole milk
1 teaspoon vanilla
Sprinkles
Instructions
Preheat oven to 350 degrees. Spray 2 mini donut pans with cooking spray.
Mix together the flour, cocoa, baking soda, salt and brown sugar in a batter bowl. Whisk together with a wire whisk until blended together.
Add the buttermilk, butter, vanilla and beaten egg to a bowl. Whisk until thoroughly combined. Add the flour mixture. Using the whisk, mix until the batter comes together.
Use a small scoop and put 2 level scoops of batter in each cavity. Spread out with a spoon until even. It doesn't have to be perfect, the batter will level itself out as it bakes.
Bake for 10 – 12 minutes. Remove from pan to a wire rack to cool.
To make frosting add the cocoa, sugar, butter, salt and milk to a saucepan. Bring to a boil stirring constantly. Bring to a boil that can't be stirred down and cook for 1 minute. Remove from heat. Cool slightly. Add the confectionary sugar and vanilla. Stir until no there aren't any lumps. If needed, add a little more milk or confectionary sugar if needed to reach desired consistency. Frost donuts and sprinkle with the sprinkles.