When I hit up the expat stores I always have to laugh when I see that little bag of granola for roughly $6. Are you kidding me? What a rip off. How can people spend that much money when it costs pennies to make it yourself? Well, the answer is obvious: they just don't know any better. I never made my own granola until I moved to Beijing. It just never occurred to me that I could make it myself. Even when I move back to America, I will never buy granola again. It's insanely easy to make, fun to experiment with, and it's comforting to know exactly what's in the food you're eating.
I enjoyed this granola with some vanilla yogurt this morning. It's not super sweet, and I like that the fruit is what makes it sweet. I chose to make a granola with applesauce simply because I had some in the fridge that needed to get used. Plus, by using applesauce, it reduced the amount of oil you find in most granola recipes. I'm not going to say this is my favorite granola, because there are so many combinations I haven't tried yet, and I don't want to make any promises I can't keep. However, for a basic granola recipe this one's definitely a keeper!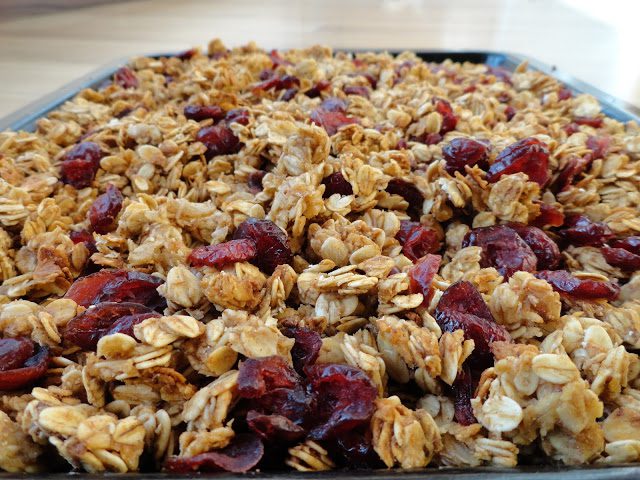 Applesauce Granola
Ingredients
4 cups old fashioned oats
1 ½ teaspoons cinnamon
¼ tsp salt
½ cup applesauce
¼ cup plus 2 tbs honey
1 tablespoon olive oil
1 tablespoon vanilla
¾ cup dried fruit (I used dry cranberries)
Directions
Preheat oven to 350˚F. Lightly grease a sheet pan, or spray
with cooking spray.
In a large bowl, combine oats, cinnamon, and salt. In a
small saucepan, heat the applesauce, honey, olive oil, and vanilla. Combine
both mixtures and pour onto prepared sheet pan. Bake for 20-25 minutes or until
golden brown, stirring every 5 minutes.
Remove from oven, fold in fruit, and press into the pan. Let
cool, then break into chunks.