Happy Easter everyone!
I hope that your weekend is filled with family, food and (a lot of) chocolate. So so much chocolate.
It's a fact that having a giant chocolate easter egg for breakfast is completely ok this time of year. In actuality, I'm pretty sure that 85 percent of people I know have already done this (including myself.)
Hot cross buns are probably one of the best things about easter. I may even go as far as to say that they're better than the chocolate. I know, sounds crazy. But when you think about it; they're filling, comforting, fruity, buttery and leave you wanting more every time.
Chocolate, on the other hand, is amazing for about half of an easter egg. The second half is just too much. You feel sick but you carry on eating, and by the end you just feel disgusted with yourself.
I have added in Apples to the dough to pack in a bit of moisture and even more fruity flavour. Pile on some honey and ginger butter and it seriously couldn't get any better.
I know that spring has 'officially' been here for a while now, but it's only today that I felt that it had actually arrived. Due to my job, I don't spend much time out in the daylight. So today, I headed out into the sunshine. For the first time in… ever, I actually appreciated all of the pretty flowers swaying in the breeze, all of them coming out to say hi. I love watching the seasons change.
Did I mention that I'm getting extremely distracted while writing this because I keep getting wafts of sweet, fresh hot cross bun scent every few seconds? My train of thought keeps melting away like butter into those warm toasted buns.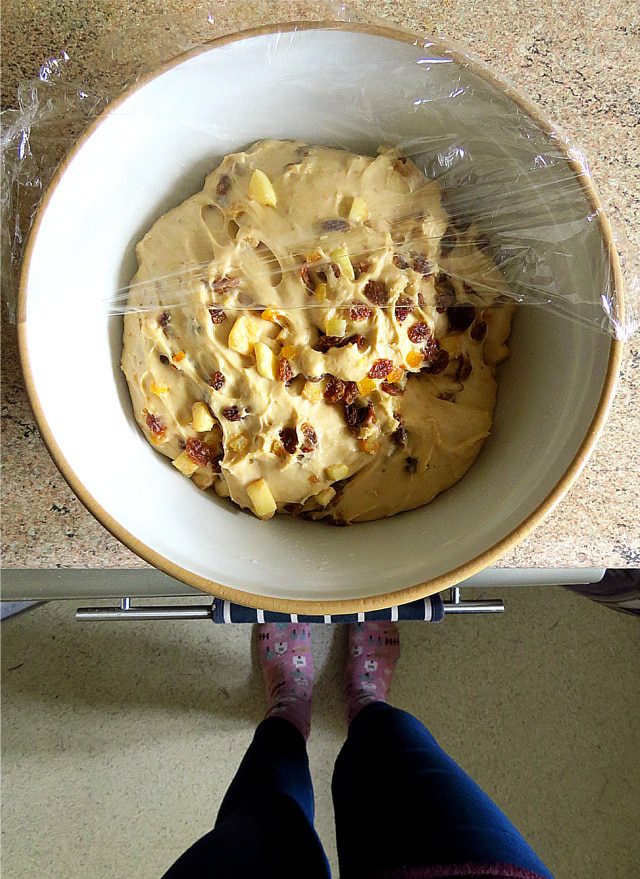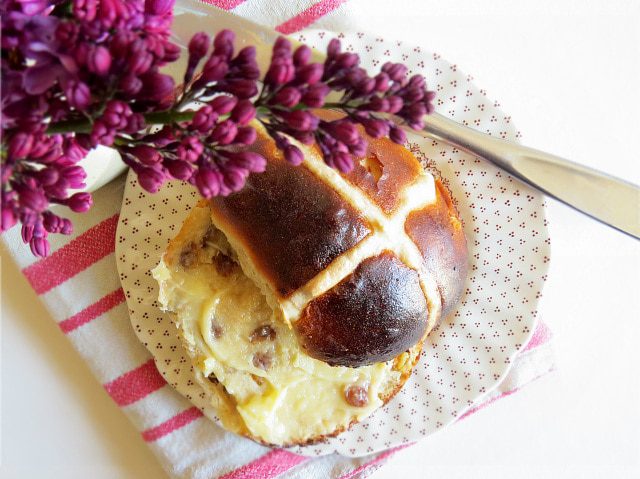 Ingredients – Makes 12 Hot Cross Buns
300ml milk
500g strong white flour
75g caster sugar
1 tsp salt
7g instant yeast
50g soft unsalted butter
1 egg
150g sultanas
50g mixed peel
1 apple, peeled and diced
1 tsp ground cinnamon
1 tsp ground ginger
For the white cross
For the Bun Wash
100ml water
30g sugar
1/2 tsp ground cinnamon
Spiced Butter
125g soft unsalted butter
2 tbsp. honey
1/2 tsp. ground ginger
Method
Start by bringing the milk to the boil in a small saucepan. Remove the milk from the heat, transfer to a cool bowl and leave to cool until just warm.
Place the flour, sugar, salt, yeast, butter and egg into the bowl of a stand mixer. Make sure that the yeast doesn't directly touch the salt as this will kill it.
Place the bowl on the mixer with the dough hook attachment. On low-speed slowly pour in the warm milk. Continue to mix until the dough comes together.
Add in the sultanas, mixed peel, apple and cinnamon. Continue to mix the dough on medium speed until it forms a smooth ball and no longer sticks to the side of the bowl. This will take about 10 minutes.
Note: you can make this dough without a stand mixer, however it is a very wet dough and will need some persistence.
Lightly oil a large bowl with sunflower oil and place in your dough. Cover the bowl with oiled cling film and place in a warm spot for 1 hour (or until doubled in size.)
Once your dough has proved, turn it out onto a lightly floured surface and split into 12 equal pieces. Roll each piece into a round smooth ball. Place onto a large baking tray lined with parchment paper. Place all of the balls into a ring, leaving a small gap in between each. Lay a tea towel (or loose cling film) over the top of the baking tray and leave to prove for 30 minutes to 1 hour (or until doubled in size.)
Heat your oven to 220 degrees C.
When your hot cross buns are ready, you can make your flour paste. Place the flour into a small bowl and add in a few tbsp of water. Stir this together. Continue to add in water, a tbsp at a time, until you are left with an elastic smooth but thick paste (thin enough to pipe.)
Spoon the paste into a piping bag, cut a small hole at the tip and pipe a cross over each bun. Let the paste flow from the piping bag so that it hugs the buns.
Bake the buns for approx. 20 minutes or until golden brown.
While your buns are baking, make the bun wash. Place the water and sugar into a small pan and bring the boil. Once boiled, take off the heat and stir in the cinnamon. When the buns come out of the oven, brush liberally with the bun wash while still warm.
Spiced Butter:
While your buns are proving you can prepare the butter:
Cream the butter until fluffy.
Next, add in the honey and ground ginger. Beat until combined.
Place in a bowl, cover with cling film and place into the fridge to firm up. Or you can roll the butter into a tube using cling film, firm up in the fridge and slice to serve.